Citing sources, Fonearena reported that Xiaomi has enabled Dual VoLTE on Redmi 6 Pro with Android Pie update.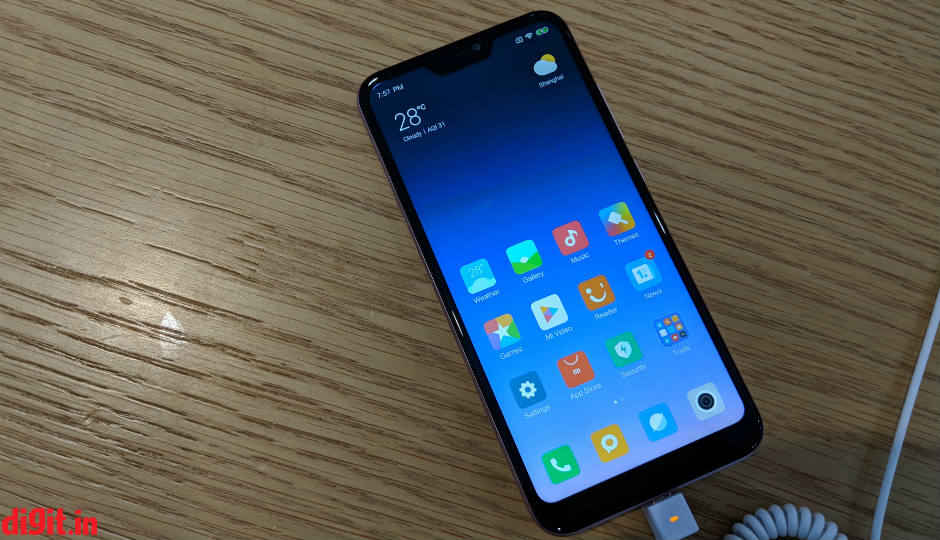 Highlights:
Xiaomi Redmi 6 Pro may soon get dual-VoLTE support
The feature may come in the next stable MIUI 10 update based on Android 9 Pie
It is currently in the beta testing phase

Xiaomi is working on MIUI 10 on Android 9 for a number of devices. While some phones are already getting the updates bringing enhancements, for others, the features are in the beta testing phase. One such device is the Redmi 6 Pro and according to Fonearena, this particular device will get Dual-VoLTE feature in one of the upcoming stable updates. Moreover, a couple of screenshots shared by the tech news platform also confirm the development.


In January, a closed beta of MIUI 10 based on Android Pie was released for the Redmi 6 Pro in China, and a few weeks later, a beta update was rolled out for global users, including in India. As mentioned, the screenshots shared by Fonearena show an option to enable VoLTE on the secondary SIM slot. Citing sources, Fonearena said that Xiaomi has enabled the feature on Redmi 6 Pro, but the website also notes that there are doubts on the inclusion of the feature in the first stable update.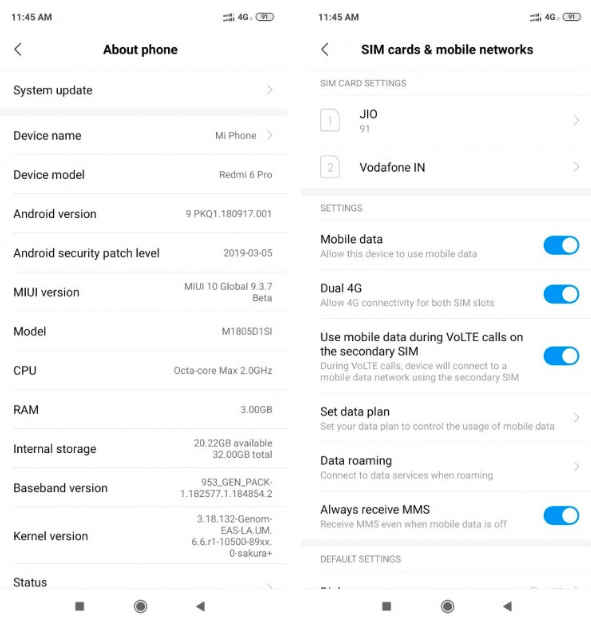 The company teased the Dual-VoLTE functionality before launching the phone back in September, and currently, Xiaomi's Mi A1, which got a stable MIUI 10 update based on Android 9 in December, supports Dual-VoLTE. Both the phones have the Qualcomm Snapdragon 625 processor, suggesting that the Redmi Y2 might also receive Dual VoLTE support since it also runs on the same processor.


Xiaomi Redmi 6 Pro specifications
The Redmi 6 Pro features a 5.84-inch Full HD+ notch screen with a 19:9 display aspect ratio. It sports an aluminium built and sports a rear-mounted fingerprint sensor. The Redmi 6 Pro comes equipped with a dual rear camera setup that also supports EIS. The primary sensor is the 12MP Sony IMX 486 sensor and there is secondary 5MP Samsung sensor. The smartphone is powered by a 4000mAh battery that is claimed to deliver up to 16.5 hours of video playback.


Related Read:
Xiaomi Redmi Note 7 now receiving MIUI 10.2.7.0 update that 'enhances' low light camera mode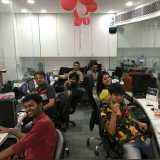 Digit NewsDesk
  news@digit.in
The guy who answered the question 'What are you doing?' with 'Nothing'.
Other Popular Deals
Samsung A7 2016 Edition Golden

Rs. 18990 *

Buy Now

Nokia 1 (Dark Blue, 1GB RAM,…

Rs. 4000

Buy Now

Redmi Note 5 Pro (Gold, 4GB…

Rs. 12395

Buy Now

*Includes Cashback

​
').insertAfter('.inside-container p:eq(1)'); */
// $( " ).insertAfter('.inside-container p:eq(0)');
//});#}
//method to trunkate the text
function shorten(text, maxLength) {
var ret = text;
if (ret.length > maxLength) {
ret = ret.substr(0,maxLength-3) + "…";
}
return ret;
}
$(function(){
//function to put utm on DontMiss links
/*if(isDesktop()){
$('div.dontMiss > a').each(function(){
$(this).prop('href', $(this).prop('href')+'?utm_source=within_article&utm_medium=desktop&utm_campaign=related');
//trunkate dont miss content
var sub = shorten($(this).html(),47);
$(this).html(sub);
});
}else{
$('div.dontMiss > a').each(function(){
$(this).prop('href', $(this).prop('href')+'?utm_source=within_article&utm_medium=mobile&utm_campaign=related');
});
}*/
//disabled method to append dontmiss links to page content by Mayank
/*$('div.dontMiss > a').each(function(index){
//loop over each list item
// if(index%2 > 0){
// index = index – 1;
// }
if($('.inside-container > p:eq('+index+')').length){
if(isDesktop()){
$('.inside-container > p:eq('+((index * 2) + 1)+')').append('
Related: ' + $(this).html() + '' );
}else{
$('.inside-container > p:eq('+((index * 2) + 1)+')').append('
Related: ' + $(this).html() + '' );
}
}
});*/
$('div.dontMissArea').hide();
/* if(isDesktop()) {
$('div.dontMissArea').hide();
}else{
$('div.dontMissArea').show();
} */
/*
* ga event tracking on page scroll start and end by Mayank
*/
// Debug flag
var debugMode = false;
// Default time delay before checking location
var callBackTime = 100;
// # px before tracking a reader
var readerLocation = 150;
// Set some flags for tracking & execution
var timer = 0;
var scroller = false;
var endContent = false;
var didComplete = false;
// Set some time variables to calculate reading time
var startTime = new Date();
var beginning = startTime.getTime();
var totalTime = 0;
// Get some information about the current page
var pageTitle = document.title;
// Track the aticle load — disabled
if (!debugMode) {
// ga('send', 'event', 'Reading', 'ArticleLoaded', pageTitle, {'nonInteraction': 1});
// console.log("ga('send', 'event', 'Reading', 'ArticleLoaded', pageTitle, {'nonInteraction': 1}");
} else {
alert('The page has loaded. Woohoo.');
}
// Check the location and track user
function trackLocation() {
bottom = $(window).height() + $(window).scrollTop();
height = $(document).height();
// If user starts to scroll send an event
if (bottom > readerLocation && !scroller) {
currentTime = new Date();
scrollStart = currentTime.getTime();
timeToScroll = Math.round((scrollStart – beginning) / 1000);
if (!debugMode) {
ga('send', 'event', 'Reading', 'StartReading', pageTitle, timeToScroll, {'metric1' : timeToScroll});
} else {
alert('started reading ' + timeToScroll);
}
scroller = true;
}
// If user has hit the bottom of the content send an event
if (bottom >= $('.inside-container').scrollTop() + $('.inside-container').innerHeight() && !endContent) {
currentTime = new Date();
contentScrollEnd = currentTime.getTime();
timeToContentEnd = Math.round((contentScrollEnd – scrollStart) / 1000);
if (!debugMode) {
if (timeToContentEnd = height && !didComplete) {
currentTime = new Date();
end = currentTime.getTime();
totalTime = Math.round((end – scrollStart) / 1000);
if (!debugMode) {
ga('send', 'event', 'Reading', 'PageBottom', pageTitle, totalTime, {'metric3' : totalTime});
} else {
alert('bottom of page '+totalTime);
}
didComplete = true;
}
}
// Track the scrolling and track location
$(window).scroll(function() {
if (timer) {
clearTimeout(timer);
}
// Use a buffer so we don't call trackLocation too often.
timer = setTimeout(trackLocation, callBackTime);
});
});
').insertAfter(".inside-container p:eq(2)");
}
});