Tipster Evan Blass shared the hands-on video, which shows a tablet being folded from both ends leaving a small centre part of the original display.
Motorola One Power (Black, 64 GB…

14999
Highlights:
Hands-on video shows a foldable smartphone
The device is allegedly made by Xiaomi
It seems to be an early prototype
Foldable display is the latest buzzword in the tech industry and a lot of reports have suggested that several original equipment manufacturers are working on the development of devices that can be folded to work like a phone and unfolded to be used as tablets. If a leak is to be believed, Xiaomi seems to be the latest contender in the list of companies who are working on foldable devices. Xiaomi joins Samsung, Huawei and LG that are bullish in launching this technology soon.


In a hand-on video shared by notable tipster Evan Blass, a tablet-sized device is seen in working condition. The person navigates through different screens, opens Google Maps on the device and finally folds its from both sides, leaving a small, smartphone-sized part of the original tablet-sized display to interact with. Nothing can be said with surety, but the tipster claims that he has been told that the device in the video is "allegedly made by Xiaomi".


Can't speak to the authenticity of this video or device, but it's allegedly made by Xiaomi, I'm told. Hot new phone, or gadget porn deepfake? pic.twitter.com/qwFogWiE2F

— Evan Blass (@evleaks) 3 January 2019
If looked closely, this seems to be an early prototype due to the creases which are present on the places from where the device is folded later in the video. The UI seems to be in late developing stages because it looks smooth and as soon as the device is folded, the notification bar changes its position to display the relevant information on the small screen. The navigation tabs on the bottom of Google Maps also squeeze to fit in the small display of the folded device.


CES is just around the corner and we could see the next generation of tech at this coveted event. There could be several startups and unicorns who may display their products based on this technology. Previously, a report had said that LG could show their foldable device at CES. In the run-up to the annual event, which takes place in Las Vegas, a little has been reported about LG's foldable smartphone. Stay tuned for in-depth coverage of the event on Digit.in.


Related Read:
Meet FlexPai: The world's first foldable smartphone
Samsung foldable smartphone with new Android UI unveiled at SDC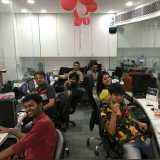 Digit NewsDesk
  news@digit.in
The guy who answered the question 'What are you doing?' with 'Nothing'.
Other Popular Deals
Oppo F9 Pro

Rs. 20890 *

Buy Now

Moto G5s Plus (Lunar Grey, 64GB)

Rs. 13000

Buy Now

10.or E (Beyond Black, 3GB…

Rs. 9999

Buy Now

*Includes Cashback

​
').insertAfter('.inside-container p:eq(1)'); */
// $( " ).insertAfter('.inside-container p:eq(0)');
//});#}
//method to trunkate the text
function shorten(text, maxLength) {
var ret = text;
if (ret.length > maxLength) {
ret = ret.substr(0,maxLength-3) + "…";
}
return ret;
}
$(function(){
//function to put utm on DontMiss links
/*if(isDesktop()){
$('div.dontMiss > a').each(function(){
$(this).prop('href', $(this).prop('href')+'?utm_source=within_article&utm_medium=desktop&utm_campaign=related');
//trunkate dont miss content
var sub = shorten($(this).html(),47);
$(this).html(sub);
});
}else{
$('div.dontMiss > a').each(function(){
$(this).prop('href', $(this).prop('href')+'?utm_source=within_article&utm_medium=mobile&utm_campaign=related');
});
}*/
//disabled method to append dontmiss links to page content by Mayank
/*$('div.dontMiss > a').each(function(index){
//loop over each list item
// if(index%2 > 0){
// index = index – 1;
// }
if($('.inside-container > p:eq('+index+')').length){
if(isDesktop()){
$('.inside-container > p:eq('+((index * 2) + 1)+')').append('
Related: ' + $(this).html() + '' );
}else{
$('.inside-container > p:eq('+((index * 2) + 1)+')').append('
Related: ' + $(this).html() + '' );
}
}
});*/
$('div.dontMissArea').hide();
/* if(isDesktop()) {
$('div.dontMissArea').hide();
}else{
$('div.dontMissArea').show();
} */
/*
* ga event tracking on page scroll start and end by Mayank
*/
// Debug flag
var debugMode = false;
// Default time delay before checking location
var callBackTime = 100;
// # px before tracking a reader
var readerLocation = 150;
// Set some flags for tracking & execution
var timer = 0;
var scroller = false;
var endContent = false;
var didComplete = false;
// Set some time variables to calculate reading time
var startTime = new Date();
var beginning = startTime.getTime();
var totalTime = 0;
// Get some information about the current page
var pageTitle = document.title;
// Track the aticle load — disabled
if (!debugMode) {
// ga('send', 'event', 'Reading', 'ArticleLoaded', pageTitle, {'nonInteraction': 1});
// console.log("ga('send', 'event', 'Reading', 'ArticleLoaded', pageTitle, {'nonInteraction': 1}");
} else {
alert('The page has loaded. Woohoo.');
}
// Check the location and track user
function trackLocation() {
bottom = $(window).height() + $(window).scrollTop();
height = $(document).height();
// If user starts to scroll send an event
if (bottom > readerLocation && !scroller) {
currentTime = new Date();
scrollStart = currentTime.getTime();
timeToScroll = Math.round((scrollStart – beginning) / 1000);
if (!debugMode) {
ga('send', 'event', 'Reading', 'StartReading', pageTitle, timeToScroll, {'metric1' : timeToScroll});
} else {
alert('started reading ' + timeToScroll);
}
scroller = true;
}
// If user has hit the bottom of the content send an event
if (bottom >= $('.inside-container').scrollTop() + $('.inside-container').innerHeight() && !endContent) {
currentTime = new Date();
contentScrollEnd = currentTime.getTime();
timeToContentEnd = Math.round((contentScrollEnd – scrollStart) / 1000);
if (!debugMode) {
if (timeToContentEnd = height && !didComplete) {
currentTime = new Date();
end = currentTime.getTime();
totalTime = Math.round((end – scrollStart) / 1000);
if (!debugMode) {
ga('send', 'event', 'Reading', 'PageBottom', pageTitle, totalTime, {'metric3' : totalTime});
} else {
alert('bottom of page '+totalTime);
}
didComplete = true;
}
}
// Track the scrolling and track location
$(window).scroll(function() {
if (timer) {
clearTimeout(timer);
}
// Use a buffer so we don't call trackLocation too often.
timer = setTimeout(trackLocation, callBackTime);
});
});
').insertAfter(".inside-container p:eq(2)");
}
});