The Galaxy S9+ teardown reveals how the dual aperture camera works as well as the hardships one has to face to repair the phone.
Samsung spoke about reimagining the camera during the launch of the Galaxy S9+. The dual aperture camera at the back of the S9 and the S9+ is one of the first in the global smartphone landscape, and iFixit's teardown gaves us a more closer look at the new technology.To dig deeper into how the camera works, read this.
iFixit noted that while most cameras use a number of aperture blades, usually up to five. It is to keep the the aperture roughly circular when adjusting the f-stop of the lenses. The Galaxy S9+, however, employs a two-ring blade to adjust between f/1.5 and f/2.4.
The S9+ camera also comes with a DRAM, which is placed under the image sensor. The DRAM is mostly responsible for shooting the Super Slo-Mo videos at 960fps. Sony had done something similar last year as well.
The teardown also confirms that Samsung does not have anything for advanced face detection. Unlike the dot-projector camera on the iPhone X that can 3D map your face, the AR Emoji feature on the S9 is purely software-based.
Apart from this, it was a pretty standard surgery for iFixit. There's hardly much to discern from last year's models. It's perhaps even more difficult to open it now. The fingerprint sensor and the display cables are routed in such a way that it's too easy to tear them out accidentally when opening up the phone for the first time.
Samsung has also made it easier to replace parts independently of each other by making them somewhat modular. But you will essentially have to take apart the entire phone to fix the panel. iFixit also noted that the specs of the battery used on the Note 9 is exactly the same as that used in the ill-fated Galaxy Note 7. But they are not the same batteries.
More importantly, repairing the Galaxy S9 or the S9+ could be a costly affair. Samsung has used generous amounts of adhesive to seal the device and make it watertight. iFixit gave the phone a repairability score of 4 out of 10, which is pretty much in line with its predecessors.
Image Courtesy: iFixit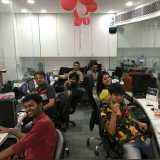 Digit NewsDesk
  news@digit.in
The guy who answered the question 'What are you doing?' with 'Nothing'.
​
').insertAfter('.inside-container p:eq(1)'); */
// $( " ).insertAfter('.inside-container p:eq(0)');
//});#}
//method to trunkate the text
function shorten(text, maxLength) {
var ret = text;
if (ret.length > maxLength) {
ret = ret.substr(0,maxLength-3) + "…";
}
return ret;
}
$(function(){
//function to put utm on DontMiss links
/*if(isDesktop()){
$('div.dontMiss > a').each(function(){
$(this).prop('href', $(this).prop('href')+'?utm_source=within_article&utm_medium=desktop&utm_campaign=related');
//trunkate dont miss content
var sub = shorten($(this).html(),47);
$(this).html(sub);
});
}else{
$('div.dontMiss > a').each(function(){
$(this).prop('href', $(this).prop('href')+'?utm_source=within_article&utm_medium=mobile&utm_campaign=related');
});
}*/
//disabled method to append dontmiss links to page content by Mayank
/*$('div.dontMiss > a').each(function(index){
//loop over each list item
// if(index%2 > 0){
// index = index – 1;
// }
if($('.inside-container > p:eq('+index+')').length){
if(isDesktop()){
$('.inside-container > p:eq('+((index * 2) + 1)+')').append('
Related: ' + $(this).html() + '' );
}else{
$('.inside-container > p:eq('+((index * 2) + 1)+')').append('
Related: ' + $(this).html() + '' );
}
}
});*/
$('div.dontMissArea').hide();
/* if(isDesktop()) {
$('div.dontMissArea').hide();
}else{
$('div.dontMissArea').show();
} */
/*
* ga event tracking on page scroll start and end by Mayank
*/
// Debug flag
var debugMode = false;
// Default time delay before checking location
var callBackTime = 100;
// # px before tracking a reader
var readerLocation = 150;
// Set some flags for tracking & execution
var timer = 0;
var scroller = false;
var endContent = false;
var didComplete = false;
// Set some time variables to calculate reading time
var startTime = new Date();
var beginning = startTime.getTime();
var totalTime = 0;
// Get some information about the current page
var pageTitle = document.title;
// Track the aticle load — disabled
if (!debugMode) {
// ga('send', 'event', 'Reading', 'ArticleLoaded', pageTitle, {'nonInteraction': 1});
// console.log("ga('send', 'event', 'Reading', 'ArticleLoaded', pageTitle, {'nonInteraction': 1}");
} else {
alert('The page has loaded. Woohoo.');
}
// Check the location and track user
function trackLocation() {
bottom = $(window).height() + $(window).scrollTop();
height = $(document).height();
// If user starts to scroll send an event
if (bottom > readerLocation && !scroller) {
currentTime = new Date();
scrollStart = currentTime.getTime();
timeToScroll = Math.round((scrollStart – beginning) / 1000);
if (!debugMode) {
ga('send', 'event', 'Reading', 'StartReading', pageTitle, timeToScroll, {'metric1' : timeToScroll});
} else {
alert('started reading ' + timeToScroll);
}
scroller = true;
}
// If user has hit the bottom of the content send an event
if (bottom >= $('.inside-container').scrollTop() + $('.inside-container').innerHeight() && !endContent) {
currentTime = new Date();
contentScrollEnd = currentTime.getTime();
timeToContentEnd = Math.round((contentScrollEnd – scrollStart) / 1000);
if (!debugMode) {
if (timeToContentEnd = height && !didComplete) {
currentTime = new Date();
end = currentTime.getTime();
totalTime = Math.round((end – scrollStart) / 1000);
if (!debugMode) {
ga('send', 'event', 'Reading', 'PageBottom', pageTitle, totalTime, {'metric3' : totalTime});
} else {
alert('bottom of page '+totalTime);
}
didComplete = true;
}
}
// Track the scrolling and track location
$(window).scroll(function() {
if (timer) {
clearTimeout(timer);
}
// Use a buffer so we don't call trackLocation too often.
timer = setTimeout(trackLocation, callBackTime);
});
});
').insertAfter(".inside-container p:eq(2)");
}
});