Samsung Mobile India has started teasing the launch of the Galaxy Note9: First Snow White variant.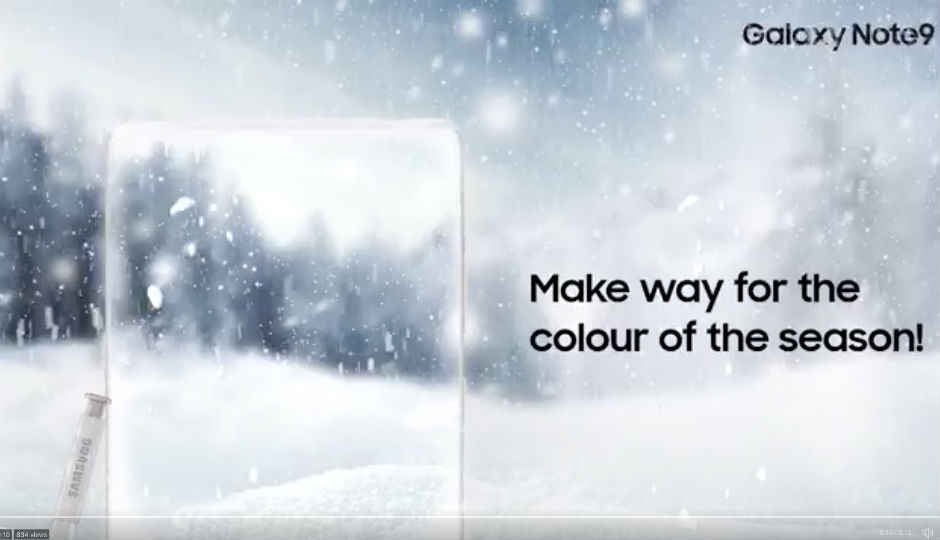 Samsung has confirmed the launch of the First Snow White colour variant of its Galaxy Note9 flagship smartphone in India. The Galaxy Note9: First Snow White was introduced in Taiwan back in November, and according to a Tweet by Samsung Mobile, it is now headed to India sometime "soon". It is speculated that Samsung will launch the Snow White variant of the Galaxy Note9 in India this month itself. However, it is unclear which storage and RAM variants of the device will be headed to the country. With the new colour, the Galaxy Note9 will now be available in a total of Five colours in India, including – Metallic Copper, Lavender Purple, Ocean Blue, and Midnight Black.


The Galaxy Note9: First Snow White comes just in time for the holiday season and also coincides with the start of Winter in India. It is accompanied by a White coloured Samsung S Pen. In Taiwan, the Galaxy Note9 Snow White is priced at NT$30,900 (Rs 71,107 approximately). Samsung sells both 6GB RAM + 128GB storage and 8GB RAM + 512GB storage variants for all colours of the Galaxy Note9 in India, except for the Lavender Purple colour which is only available with 128GB of storage. 


A warm welcome for the coolest colour of the year! Stay tuned. pic.twitter.com/ypkwUzX7uN

— Samsung Mobile India (@SamsungMobileIN) December 5, 2018
Samsung Galaxy Note9: First Snow White Specs
All Galaxy Note9 variants come bearing the same specs. The phone sports a 6.4-inch Quad HD+ Super AMOLED display with a resolution of 2960×1440. Its Infinity Display is complemented by stereo speakers tuned by AKG, which also come with support for Dolby Atmos. For its processing needs, the Galaxy Note9 houses a Qualcomm Snapdragon 845 10nm 64-bit Octa-core chipset in the US. In India, the Galaxy Note9 is powered by Samsung's own Exynos 9810 chipset. The phablet includes Samsung's Water Carbon Cooling technology to keep the phone cool during intense gaming sessions. On-device AI-based adjusts algorithms to deliver stable performance.


In the camera department, the Galaxy Note9: First Snow White houses the same dual-camera system with Dual OIS on the rear. Both the wide-angle and telephoto lens have a 12MP sensor. The wide-angle sensor has F1.5/F2.4 variable aperture and the telephoto lens has a F2.4 F-spot. The front camera has an 8MP sensor with F1.7 aperture.


The full package is powered by a 4,000mAh battery.


Samsung recently launched the new One UI Beta for the Galaxy Note9 phones in India. One UI brings a string of changes to the device's interface and adds loads of new features. You can read more about it here.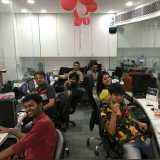 Digit NewsDesk
  news@digit.in
The guy who answered the question 'What are you doing?' with 'Nothing'.
Other Popular Deals

*Includes Cashback

​
').insertAfter('.inside-container p:eq(1)'); */
// $( " ).insertAfter('.inside-container p:eq(0)');
//});#}
//method to trunkate the text
function shorten(text, maxLength) {
var ret = text;
if (ret.length > maxLength) {
ret = ret.substr(0,maxLength-3) + "…";
}
return ret;
}
$(function(){
//function to put utm on DontMiss links
/*if(isDesktop()){
$('div.dontMiss > a').each(function(){
$(this).prop('href', $(this).prop('href')+'?utm_source=within_article&utm_medium=desktop&utm_campaign=related');
//trunkate dont miss content
var sub = shorten($(this).html(),47);
$(this).html(sub);
});
}else{
$('div.dontMiss > a').each(function(){
$(this).prop('href', $(this).prop('href')+'?utm_source=within_article&utm_medium=mobile&utm_campaign=related');
});
}*/
//disabled method to append dontmiss links to page content by Mayank
/*$('div.dontMiss > a').each(function(index){
//loop over each list item
// if(index%2 > 0){
// index = index – 1;
// }
if($('.inside-container > p:eq('+index+')').length){
if(isDesktop()){
$('.inside-container > p:eq('+((index * 2) + 1)+')').append('
Related: ' + $(this).html() + '' );
}else{
$('.inside-container > p:eq('+((index * 2) + 1)+')').append('
Related: ' + $(this).html() + '' );
}
}
});*/
$('div.dontMissArea').hide();
/* if(isDesktop()) {
$('div.dontMissArea').hide();
}else{
$('div.dontMissArea').show();
} */
/*
* ga event tracking on page scroll start and end by Mayank
*/
// Debug flag
var debugMode = false;
// Default time delay before checking location
var callBackTime = 100;
// # px before tracking a reader
var readerLocation = 150;
// Set some flags for tracking & execution
var timer = 0;
var scroller = false;
var endContent = false;
var didComplete = false;
// Set some time variables to calculate reading time
var startTime = new Date();
var beginning = startTime.getTime();
var totalTime = 0;
// Get some information about the current page
var pageTitle = document.title;
// Track the aticle load — disabled
if (!debugMode) {
// ga('send', 'event', 'Reading', 'ArticleLoaded', pageTitle, {'nonInteraction': 1});
// console.log("ga('send', 'event', 'Reading', 'ArticleLoaded', pageTitle, {'nonInteraction': 1}");
} else {
alert('The page has loaded. Woohoo.');
}
// Check the location and track user
function trackLocation() {
bottom = $(window).height() + $(window).scrollTop();
height = $(document).height();
// If user starts to scroll send an event
if (bottom > readerLocation && !scroller) {
currentTime = new Date();
scrollStart = currentTime.getTime();
timeToScroll = Math.round((scrollStart – beginning) / 1000);
if (!debugMode) {
ga('send', 'event', 'Reading', 'StartReading', pageTitle, timeToScroll, {'metric1' : timeToScroll});
} else {
alert('started reading ' + timeToScroll);
}
scroller = true;
}
// If user has hit the bottom of the content send an event
if (bottom >= $('.inside-container').scrollTop() + $('.inside-container').innerHeight() && !endContent) {
currentTime = new Date();
contentScrollEnd = currentTime.getTime();
timeToContentEnd = Math.round((contentScrollEnd – scrollStart) / 1000);
if (!debugMode) {
if (timeToContentEnd = height && !didComplete) {
currentTime = new Date();
end = currentTime.getTime();
totalTime = Math.round((end – scrollStart) / 1000);
if (!debugMode) {
ga('send', 'event', 'Reading', 'PageBottom', pageTitle, totalTime, {'metric3' : totalTime});
} else {
alert('bottom of page '+totalTime);
}
didComplete = true;
}
}
// Track the scrolling and track location
$(window).scroll(function() {
if (timer) {
clearTimeout(timer);
}
// Use a buffer so we don't call trackLocation too often.
timer = setTimeout(trackLocation, callBackTime);
});
});
').insertAfter(".inside-container p:eq(2)");
}
});