HMD Global will launch its first handset with a 48MP main camera and punch hole display on April 2 in Taiwan.
Highlights:
Nokia X71 to launch on April 2 in Taiwan.
The handset is said to feature a 48MP rear camera and a punch hole display design.
The phone could be announced globally as the Nokia 8.1 Plus. 

Nokia is all set to launch its new Nokia X71 smartphone in Taiwan on April 2. GSMArena reports, via Sogi, that the company has sent out media invites for the event confirming the launch. Additional information about the phone suggests that the handset would be a camera-centric device with a 48MP main rear camera. There is no confirmation on whether the device employs a 48MP sensor by Sony or Samsung. In terms of display, it could be the company's first smartphone to feature a punch hole display design and it is speculated to be globally launched as the Nokia 8.1 Plus. 


The launch event invite highlights some key specs of the phone like the presence of a 120-degree wide-angle lens, which could be used for the secondary sensor. The previously leaked render images of the phone tipped at a dual rear camera setup on the device, but as mentioned earlier, the phone is expected to sport a triple-camera setup on the back. It is speculated that the Chinese variant of the device could come equipped with a triple camera setup, whereas the Nokia 8.1 Plus might feature a dual camera setup.


Previous reports on the Nokia 8.1 Plus suggest that the handset could come equipped with a 6.22-inch Full-HD+ display. It is most likely to be powered by the Snapdragon 710 SoC and run on Android 9 Pie. As a Nokia handset, the Nokia 8.1 Plus is most likely an Android One device but the same won't apply for the Nokia X71 that is launching in China. The Nokia 9 PureView will also debut in Taiwan at the upcoming April 2 event. 


Cover image credits @OnLeaks
Related Reads:
Nokia 8.1 First Impressions: Maximum Nokia, pure Android
HMD Global plans to export Nokia phones made in India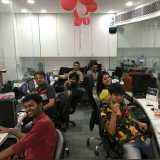 Digit NewsDesk
  news@digit.in
The guy who answered the question 'What are you doing?' with 'Nothing'.
Other Popular Deals
Samsung A7 2016 Edition Golden

Rs. 18990 *

Buy Now

Nokia 1 (Dark Blue, 1GB RAM,…

Rs. 4000

Buy Now

Redmi Note 5 Pro (Gold, 4GB…

Rs. 10999

Buy Now

*Includes Cashback

​
').insertAfter('.inside-container p:eq(1)'); */
// $( " ).insertAfter('.inside-container p:eq(0)');
//});#}
//method to trunkate the text
function shorten(text, maxLength) {
var ret = text;
if (ret.length > maxLength) {
ret = ret.substr(0,maxLength-3) + "…";
}
return ret;
}
$(function(){
//function to put utm on DontMiss links
/*if(isDesktop()){
$('div.dontMiss > a').each(function(){
$(this).prop('href', $(this).prop('href')+'?utm_source=within_article&utm_medium=desktop&utm_campaign=related');
//trunkate dont miss content
var sub = shorten($(this).html(),47);
$(this).html(sub);
});
}else{
$('div.dontMiss > a').each(function(){
$(this).prop('href', $(this).prop('href')+'?utm_source=within_article&utm_medium=mobile&utm_campaign=related');
});
}*/
//disabled method to append dontmiss links to page content by Mayank
/*$('div.dontMiss > a').each(function(index){
//loop over each list item
// if(index%2 > 0){
// index = index – 1;
// }
if($('.inside-container > p:eq('+index+')').length){
if(isDesktop()){
$('.inside-container > p:eq('+((index * 2) + 1)+')').append('
Related: ' + $(this).html() + '' );
}else{
$('.inside-container > p:eq('+((index * 2) + 1)+')').append('
Related: ' + $(this).html() + '' );
}
}
});*/
$('div.dontMissArea').hide();
/* if(isDesktop()) {
$('div.dontMissArea').hide();
}else{
$('div.dontMissArea').show();
} */
/*
* ga event tracking on page scroll start and end by Mayank
*/
// Debug flag
var debugMode = false;
// Default time delay before checking location
var callBackTime = 100;
// # px before tracking a reader
var readerLocation = 150;
// Set some flags for tracking & execution
var timer = 0;
var scroller = false;
var endContent = false;
var didComplete = false;
// Set some time variables to calculate reading time
var startTime = new Date();
var beginning = startTime.getTime();
var totalTime = 0;
// Get some information about the current page
var pageTitle = document.title;
// Track the aticle load — disabled
if (!debugMode) {
// ga('send', 'event', 'Reading', 'ArticleLoaded', pageTitle, {'nonInteraction': 1});
// console.log("ga('send', 'event', 'Reading', 'ArticleLoaded', pageTitle, {'nonInteraction': 1}");
} else {
alert('The page has loaded. Woohoo.');
}
// Check the location and track user
function trackLocation() {
bottom = $(window).height() + $(window).scrollTop();
height = $(document).height();
// If user starts to scroll send an event
if (bottom > readerLocation && !scroller) {
currentTime = new Date();
scrollStart = currentTime.getTime();
timeToScroll = Math.round((scrollStart – beginning) / 1000);
if (!debugMode) {
ga('send', 'event', 'Reading', 'StartReading', pageTitle, timeToScroll, {'metric1' : timeToScroll});
} else {
alert('started reading ' + timeToScroll);
}
scroller = true;
}
// If user has hit the bottom of the content send an event
if (bottom >= $('.inside-container').scrollTop() + $('.inside-container').innerHeight() && !endContent) {
currentTime = new Date();
contentScrollEnd = currentTime.getTime();
timeToContentEnd = Math.round((contentScrollEnd – scrollStart) / 1000);
if (!debugMode) {
if (timeToContentEnd = height && !didComplete) {
currentTime = new Date();
end = currentTime.getTime();
totalTime = Math.round((end – scrollStart) / 1000);
if (!debugMode) {
ga('send', 'event', 'Reading', 'PageBottom', pageTitle, totalTime, {'metric3' : totalTime});
} else {
alert('bottom of page '+totalTime);
}
didComplete = true;
}
}
// Track the scrolling and track location
$(window).scroll(function() {
if (timer) {
clearTimeout(timer);
}
// Use a buffer so we don't call trackLocation too often.
timer = setTimeout(trackLocation, callBackTime);
});
});
').insertAfter(".inside-container p:eq(2)");
}
});