The "Nokia 9" was seen listed in the Device Catalog in the Enterprise section on Android.com showing the phone sporting 4GB RAM and 128GB local storage.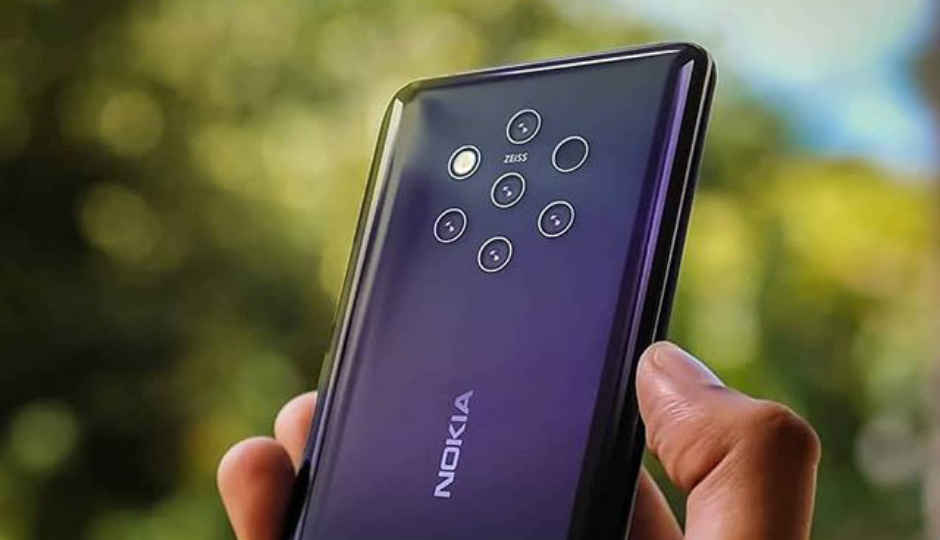 Highlights:
Listing suggests Nokia 9 Pureview will have 6-inch display and it'll run Android 9 OS.
Android.com suggests the phone will feature 4GB RAM and 128GB local storage.
NFC support is also confirmed.

HMD Global will be making an appearance at this year's MWC and it has been highly reported that the Nokia 9 PureView will launch at an event organised by the company on February 24. The phone has been leaked quite a few times in the past and now, the latest listing on Android.com shows some key technical specifications of the device. The Nokia 9 PureView is seen having a 6-inch display and running Android 9 Pie OS. The phone has been seen listed along with scores of other devices that run Android OS.


The listing also says that the phone sports 4GB RAM and 128GB local storage. Rumours have suggested that the phone will come with 6GB RAM. Given the new listing, it's possible that the Nokia 9 could launch in two RAM variants paired with 128GB local storage. The device is also likely to come with support for NFC. The Google listing also says that the Nokia 9 will feature a "fingerprint sensor". Live images and press renders of the phones haven't shown any physical fingerprint sensor on the phone. It's possible that the phone will have an in-display fingerprint scanner.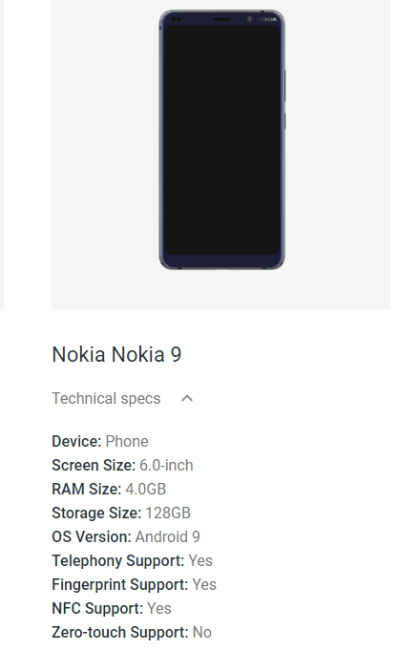 Recently, live images of Nokia 9 PureView were leaked online. The USP of the phone is the penta-lens camera setup on the back. The camera setup is part of a hexagonal module that has seven cutouts. It has been reported that the sixth cutout is for the LED flash and the seventh one could be used for a laser-assisted autofocus tech.


The Nokia 9 PureView has already got 3C Certification in China, suggesting that an 18-watt fast charger could come bundled with the phone. Since the phone has been in development for quite some time and has repeatedly missed launch schedules, it could come with a dated Qualcomm Snapdragon 845 mobile platform instead of the latest Snapdragon 855 flagship. The Nokia 9 PureView is speculated to feature a 4150mAh battery and could come equipped with a display offering 2K resolution and HDR10 support.


Related Read:
Nokia 9 PureView's leaked press render hints at in-display fingerprint sensor, reaffirms penta camera setup on the rear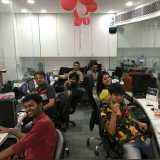 Digit NewsDesk
  news@digit.in
The guy who answered the question 'What are you doing?' with 'Nothing'.
Other Popular Deals
Samsung A7 2016 Edition Golden

Rs. 18990 *

Buy Now

Nokia 1 (Dark Blue, 1GB RAM,…

Rs. 4000

Buy Now

*Includes Cashback

​
').insertAfter('.inside-container p:eq(1)'); */
// $( " ).insertAfter('.inside-container p:eq(0)');
//});#}
//method to trunkate the text
function shorten(text, maxLength) {
var ret = text;
if (ret.length > maxLength) {
ret = ret.substr(0,maxLength-3) + "…";
}
return ret;
}
$(function(){
//function to put utm on DontMiss links
/*if(isDesktop()){
$('div.dontMiss > a').each(function(){
$(this).prop('href', $(this).prop('href')+'?utm_source=within_article&utm_medium=desktop&utm_campaign=related');
//trunkate dont miss content
var sub = shorten($(this).html(),47);
$(this).html(sub);
});
}else{
$('div.dontMiss > a').each(function(){
$(this).prop('href', $(this).prop('href')+'?utm_source=within_article&utm_medium=mobile&utm_campaign=related');
});
}*/
//disabled method to append dontmiss links to page content by Mayank
/*$('div.dontMiss > a').each(function(index){
//loop over each list item
// if(index%2 > 0){
// index = index – 1;
// }
if($('.inside-container > p:eq('+index+')').length){
if(isDesktop()){
$('.inside-container > p:eq('+((index * 2) + 1)+')').append('
Related: ' + $(this).html() + '' );
}else{
$('.inside-container > p:eq('+((index * 2) + 1)+')').append('
Related: ' + $(this).html() + '' );
}
}
});*/
$('div.dontMissArea').hide();
/* if(isDesktop()) {
$('div.dontMissArea').hide();
}else{
$('div.dontMissArea').show();
} */
/*
* ga event tracking on page scroll start and end by Mayank
*/
// Debug flag
var debugMode = false;
// Default time delay before checking location
var callBackTime = 100;
// # px before tracking a reader
var readerLocation = 150;
// Set some flags for tracking & execution
var timer = 0;
var scroller = false;
var endContent = false;
var didComplete = false;
// Set some time variables to calculate reading time
var startTime = new Date();
var beginning = startTime.getTime();
var totalTime = 0;
// Get some information about the current page
var pageTitle = document.title;
// Track the aticle load — disabled
if (!debugMode) {
// ga('send', 'event', 'Reading', 'ArticleLoaded', pageTitle, {'nonInteraction': 1});
// console.log("ga('send', 'event', 'Reading', 'ArticleLoaded', pageTitle, {'nonInteraction': 1}");
} else {
alert('The page has loaded. Woohoo.');
}
// Check the location and track user
function trackLocation() {
bottom = $(window).height() + $(window).scrollTop();
height = $(document).height();
// If user starts to scroll send an event
if (bottom > readerLocation && !scroller) {
currentTime = new Date();
scrollStart = currentTime.getTime();
timeToScroll = Math.round((scrollStart – beginning) / 1000);
if (!debugMode) {
ga('send', 'event', 'Reading', 'StartReading', pageTitle, timeToScroll, {'metric1' : timeToScroll});
} else {
alert('started reading ' + timeToScroll);
}
scroller = true;
}
// If user has hit the bottom of the content send an event
if (bottom >= $('.inside-container').scrollTop() + $('.inside-container').innerHeight() && !endContent) {
currentTime = new Date();
contentScrollEnd = currentTime.getTime();
timeToContentEnd = Math.round((contentScrollEnd – scrollStart) / 1000);
if (!debugMode) {
if (timeToContentEnd = height && !didComplete) {
currentTime = new Date();
end = currentTime.getTime();
totalTime = Math.round((end – scrollStart) / 1000);
if (!debugMode) {
ga('send', 'event', 'Reading', 'PageBottom', pageTitle, totalTime, {'metric3' : totalTime});
} else {
alert('bottom of page '+totalTime);
}
didComplete = true;
}
}
// Track the scrolling and track location
$(window).scroll(function() {
if (timer) {
clearTimeout(timer);
}
// Use a buffer so we don't call trackLocation too often.
timer = setTimeout(trackLocation, callBackTime);
});
});
').insertAfter(".inside-container p:eq(2)");
}
});