The Motorola One Power is tipped to feature a notch on the display and feature a dual-rear camera setup.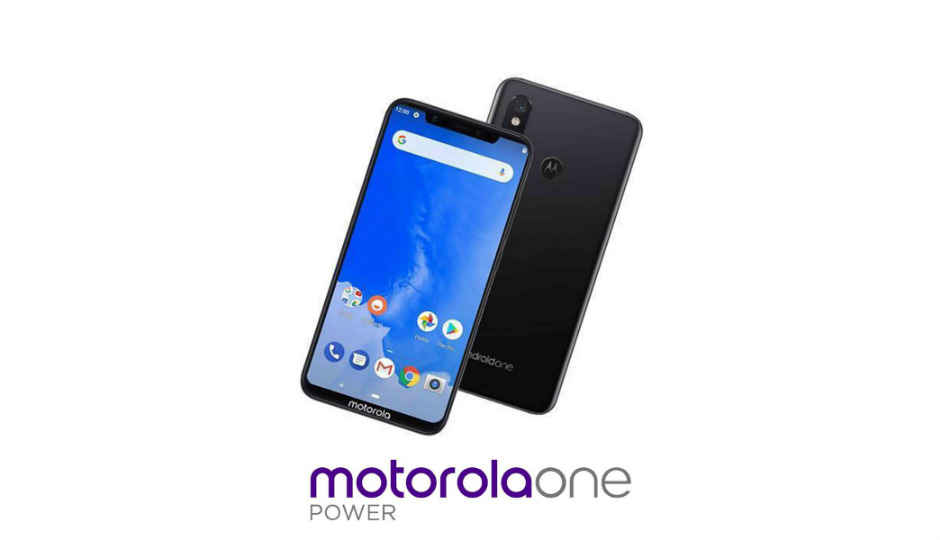 Motorola is said to be working on an Android One powered device called the Motorola One Power, and we might have gotten our first good look at the smartphone. SlashLeaks has posted an image of a device said to be the upcoming smartphone. The device features a notch on the display, and looks a lot like the press renders that were leaked a few days back.
The smartphone display in the image is turned on, however, we only get to see the Motorola and Lenovo logos. One can also make out the power and volume rocker located on the right edge of the device. Turning up the brightness in the image suggests that the phone will spot s 'Motorola' branding on the bottom chin, not 'Moto' as we have seen on previous devices.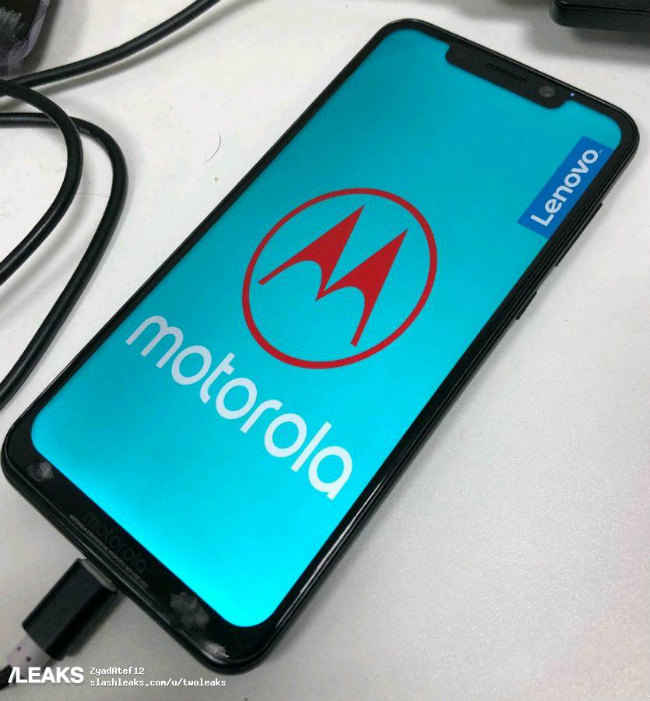 In a separate leak, Twitter user, Andri Yetim has also posted more press images about the phone as well as some specifications. According to his tweets, the Motorola One Power may offer a FHD+ display and could be powered by a Snapdragon 636 SoC. The device is tipped to offer 6GB of RAM along with 64GB of storage. The phone is said to offer 16MP + 5MP dual-rear cameras, with f/1.8 and f/2.0 aperture lenses respectively. At the front, the phone is expected to feature a 16MP camera with a f/1.9 aperture lens. The tweets also mention that the Motorola One Power may feature a 3780mAh battery.
As mentioned before, the new phone is expected to be an Android One device, which would make it the second phone from the company to be a part of the program. The first is the US version of the Moto X4. As part of the program, the phone would get stock Android, and would be one of the first devices to be updated to versions of the OS. 
Lenovo is also gearing up to launch the Moto G6 and G6 Play in India on June 4. The Moto G6 features a 18:9 5.7-inch display with FHD+ resolution, runs on the Qualcomm Snapdragon 450 platform, and offers a choice of memory and storage: 3GB RAM & 32GB of storage or 4GB RAM & 64GB of storage. The Moto G6 Play is a more affordable version of the Moto G6.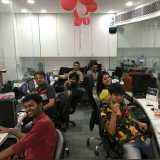 Digit NewsDesk
  news@digit.in
The guy who answered the question 'What are you doing?' with 'Nothing'.
​
').insertAfter('.inside-container p:eq(1)'); */
// $( " ).insertAfter('.inside-container p:eq(0)');
//});#}
//method to trunkate the text
function shorten(text, maxLength) {
var ret = text;
if (ret.length > maxLength) {
ret = ret.substr(0,maxLength-3) + "…";
}
return ret;
}
$(function(){
//function to put utm on DontMiss links
/*if(isDesktop()){
$('div.dontMiss > a').each(function(){
$(this).prop('href', $(this).prop('href')+'?utm_source=within_article&utm_medium=desktop&utm_campaign=related');
//trunkate dont miss content
var sub = shorten($(this).html(),47);
$(this).html(sub);
});
}else{
$('div.dontMiss > a').each(function(){
$(this).prop('href', $(this).prop('href')+'?utm_source=within_article&utm_medium=mobile&utm_campaign=related');
});
}*/
//disabled method to append dontmiss links to page content by Mayank
/*$('div.dontMiss > a').each(function(index){
//loop over each list item
// if(index%2 > 0){
// index = index – 1;
// }
if($('.inside-container > p:eq('+index+')').length){
if(isDesktop()){
$('.inside-container > p:eq('+((index * 2) + 1)+')').append('
Related: ' + $(this).html() + '' );
}else{
$('.inside-container > p:eq('+((index * 2) + 1)+')').append('
Related: ' + $(this).html() + '' );
}
}
});*/
$('div.dontMissArea').hide();
/* if(isDesktop()) {
$('div.dontMissArea').hide();
}else{
$('div.dontMissArea').show();
} */
/*
* ga event tracking on page scroll start and end by Mayank
*/
// Debug flag
var debugMode = false;
// Default time delay before checking location
var callBackTime = 100;
// # px before tracking a reader
var readerLocation = 150;
// Set some flags for tracking & execution
var timer = 0;
var scroller = false;
var endContent = false;
var didComplete = false;
// Set some time variables to calculate reading time
var startTime = new Date();
var beginning = startTime.getTime();
var totalTime = 0;
// Get some information about the current page
var pageTitle = document.title;
// Track the aticle load — disabled
if (!debugMode) {
// ga('send', 'event', 'Reading', 'ArticleLoaded', pageTitle, {'nonInteraction': 1});
// console.log("ga('send', 'event', 'Reading', 'ArticleLoaded', pageTitle, {'nonInteraction': 1}");
} else {
alert('The page has loaded. Woohoo.');
}
// Check the location and track user
function trackLocation() {
bottom = $(window).height() + $(window).scrollTop();
height = $(document).height();
// If user starts to scroll send an event
if (bottom > readerLocation && !scroller) {
currentTime = new Date();
scrollStart = currentTime.getTime();
timeToScroll = Math.round((scrollStart – beginning) / 1000);
if (!debugMode) {
ga('send', 'event', 'Reading', 'StartReading', pageTitle, timeToScroll, {'metric1' : timeToScroll});
} else {
alert('started reading ' + timeToScroll);
}
scroller = true;
}
// If user has hit the bottom of the content send an event
if (bottom >= $('.inside-container').scrollTop() + $('.inside-container').innerHeight() && !endContent) {
currentTime = new Date();
contentScrollEnd = currentTime.getTime();
timeToContentEnd = Math.round((contentScrollEnd – scrollStart) / 1000);
if (!debugMode) {
if (timeToContentEnd = height && !didComplete) {
currentTime = new Date();
end = currentTime.getTime();
totalTime = Math.round((end – scrollStart) / 1000);
if (!debugMode) {
ga('send', 'event', 'Reading', 'PageBottom', pageTitle, totalTime, {'metric3' : totalTime});
} else {
alert('bottom of page '+totalTime);
}
didComplete = true;
}
}
// Track the scrolling and track location
$(window).scroll(function() {
if (timer) {
clearTimeout(timer);
}
// Use a buffer so we don't call trackLocation too often.
timer = setTimeout(trackLocation, callBackTime);
});
});
').insertAfter(".inside-container p:eq(2)");
}
});