The new update brings new clock styles for the ambient mode and optimizations to the game mode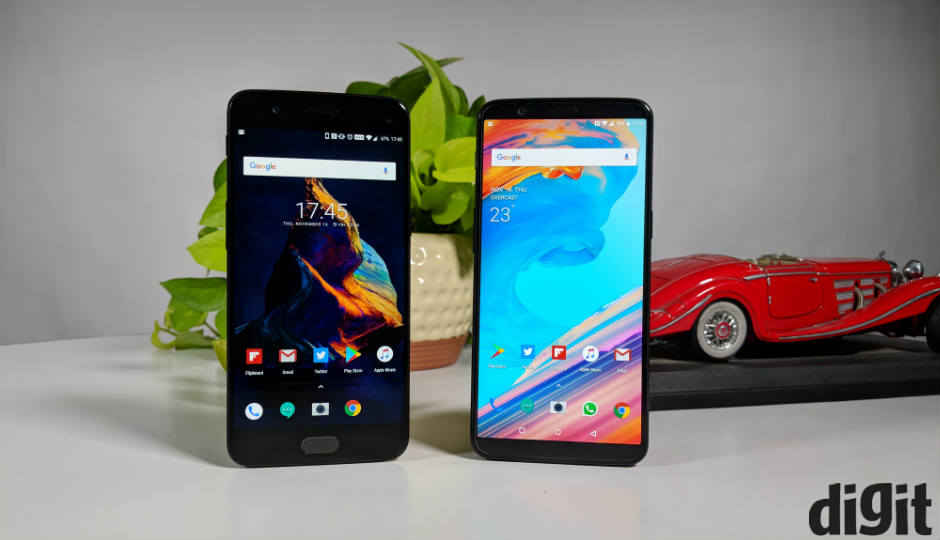 OnePlus has rolled out Android Oreo 8.1 update to its 2017 phones. The update is now available to beta users on the OnePlus 5 and the OnePlus 5T. On the OnePlus 5Where to buy

29999

37950, users should get the Open Beta 6 update package and the on the OnePlus 5T, it is the Open Beta 4 package. The new update not only brings new native android changes but also incorporates the February 2018 security patch. The update will be available via OTA for or users can manually download the patch from the respective download pages, given below. The instructions to install the update are in the link as well.
The update brings a similar set of tricks and optimizations on the two phones (OnePlus 5Where to buy

29999

37950, OnePlus 5TWhere to buy

32999

37999). The game mode has got some optimizations such as power saving mode and pausing adaptive brightness, for a more seamless gaming experience. There is a new auto pick-up gesture as well for incoming calls, which lets you answer the phone by just raising it your ear. OnePlus is adding new clock styles for the ambient display mode on both the devices. The data migration app now even transfers app data for a more simpler switch to your newer device. Other than that, both devices get optimizations to support full-screen gesture and general bug fixes and improvements.  
It is expected that Oreo 8.1 will make it to the stable release in no time after this and users who have not signed for beta updates, may get the latest version within a few weeks. 
At the same time, the company is preparing for the next flagship phone which was leaked a few days back. The phone is rumored to feature the Qualcomm Snapdragon 845 SoC and a 19:9 aspect ratio display with an iPhone like notch. The device codenamed as A6000 scored a whopping 276510 on the AnTuTu benchmark.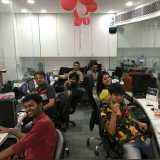 Digit NewsDesk
  news@digit.in
The guy who answered the question 'What are you doing?' with 'Nothing'.
​
').insertAfter('.inside-container p:eq(1)'); */
// $( " ).insertAfter('.inside-container p:eq(0)');
//});#}
//method to trunkate the text
function shorten(text, maxLength) {
var ret = text;
if (ret.length > maxLength) {
ret = ret.substr(0,maxLength-3) + "…";
}
return ret;
}
$(function(){
//function to put utm on DontMiss links
/*if(isDesktop()){
$('div.dontMiss > a').each(function(){
$(this).prop('href', $(this).prop('href')+'?utm_source=within_article&utm_medium=desktop&utm_campaign=related');
//trunkate dont miss content
var sub = shorten($(this).html(),47);
$(this).html(sub);
});
}else{
$('div.dontMiss > a').each(function(){
$(this).prop('href', $(this).prop('href')+'?utm_source=within_article&utm_medium=mobile&utm_campaign=related');
});
}*/
//disabled method to append dontmiss links to page content by Mayank
/*$('div.dontMiss > a').each(function(index){
//loop over each list item
// if(index%2 > 0){
// index = index – 1;
// }
if($('.inside-container > p:eq('+index+')').length){
if(isDesktop()){
$('.inside-container > p:eq('+((index * 2) + 1)+')').append('
Related: ' + $(this).html() + '' );
}else{
$('.inside-container > p:eq('+((index * 2) + 1)+')').append('
Related: ' + $(this).html() + '' );
}
}
});*/
$('div.dontMissArea').hide();
/* if(isDesktop()) {
$('div.dontMissArea').hide();
}else{
$('div.dontMissArea').show();
} */
/*
* ga event tracking on page scroll start and end by Mayank
*/
// Debug flag
var debugMode = false;
// Default time delay before checking location
var callBackTime = 100;
// # px before tracking a reader
var readerLocation = 150;
// Set some flags for tracking & execution
var timer = 0;
var scroller = false;
var endContent = false;
var didComplete = false;
// Set some time variables to calculate reading time
var startTime = new Date();
var beginning = startTime.getTime();
var totalTime = 0;
// Get some information about the current page
var pageTitle = document.title;
// Track the aticle load — disabled
if (!debugMode) {
// ga('send', 'event', 'Reading', 'ArticleLoaded', pageTitle, {'nonInteraction': 1});
// console.log("ga('send', 'event', 'Reading', 'ArticleLoaded', pageTitle, {'nonInteraction': 1}");
} else {
alert('The page has loaded. Woohoo.');
}
// Check the location and track user
function trackLocation() {
bottom = $(window).height() + $(window).scrollTop();
height = $(document).height();
// If user starts to scroll send an event
if (bottom > readerLocation && !scroller) {
currentTime = new Date();
scrollStart = currentTime.getTime();
timeToScroll = Math.round((scrollStart – beginning) / 1000);
if (!debugMode) {
ga('send', 'event', 'Reading', 'StartReading', pageTitle, timeToScroll, {'metric1' : timeToScroll});
} else {
alert('started reading ' + timeToScroll);
}
scroller = true;
}
// If user has hit the bottom of the content send an event
if (bottom >= $('.inside-container').scrollTop() + $('.inside-container').innerHeight() && !endContent) {
currentTime = new Date();
contentScrollEnd = currentTime.getTime();
timeToContentEnd = Math.round((contentScrollEnd – scrollStart) / 1000);
if (!debugMode) {
if (timeToContentEnd = height && !didComplete) {
currentTime = new Date();
end = currentTime.getTime();
totalTime = Math.round((end – scrollStart) / 1000);
if (!debugMode) {
ga('send', 'event', 'Reading', 'PageBottom', pageTitle, totalTime, {'metric3' : totalTime});
} else {
alert('bottom of page '+totalTime);
}
didComplete = true;
}
}
// Track the scrolling and track location
$(window).scroll(function() {
if (timer) {
clearTimeout(timer);
}
// Use a buffer so we don't call trackLocation too often.
timer = setTimeout(trackLocation, callBackTime);
});
});
').insertAfter(".inside-container p:eq(2)");
}
});