The Honor 9N features a thin-bezel display and is equipped with a dual rear camera setup. As a launch offer, Reliance Jio customers will get to avail a Rs 2,200 cashback with the purchase of the device.
Honor recently launched its Honor 9N smartphone in India, which is none other than the rebranded 2018 Honor 9i that was launched earlier in China. The smartphone features a thin-bezel display with a notch on top and an all-glass design. It will be available for purchase exclusively via Flipkart starting 12PM today. The Honor 9N comes in a 4GB RAM/64GB storage model, which is priced at Rs 13,999 and its 4GB RAM/128GB internal storage model costs Rs 17,999. The phone is available in Sapphire Blue and Midnight Black colour models. 


As part of Honor 9N's launch offers, Reliance Jio customers will get to avail a Rs 2,200 cashback with the purchase of the device. The cashback will be credited in form of 44 vouchers, each worth Rs 50, in the customer's MyJio App, along with 100GB of additional high-speed data. Customers purchasing the device will also receive vouchers worth Rs 1,200, which can be redeemed on Myntra. The handset will also be available via hihonor.com/in, which is the company's own online shop. 


Honor 9N Specs
The Honor 9N (review) is equipped with a  5.84-inch Full HD+ display with a 19:9 aspect ratio and a notch on top. There is also an option in the settings to hide the notch. The smartphone is powered by an octa-core HiSilicon Kirin 659 SoC and a 3000mAh battery. Coming to optics, the device is equipped with a 13MP + 2MP dual-rear camera setup, and on the front, it supports a 16MP sensor with 2.0µm pixel sensor size. The Honor 9N's cameras support Face Unlock with 3D face contouring, PDAF, and Bokeh Shift features. It has a rear-mounted fingerprint sensor and runs on EMUI 8.0, based on Android 8.0 Oreo. 


Honor 9N Features
Honor has crammed in some additional features on the smartphone to make it appealing to the customers. One will get to use the Paytm Pay Feature, which allocates a fingerprint for directly unlocking the device to Paytm's payment page. The feature was recently rolled out to the Huawei P20 Pro and users can select their preferred fingerprint id to make faster payments. It also comes with a Ride Mode, which minimises distractions while one is driving. There is also a Party Mode which was previously seen on the Honor 10 . Using the Party Mode one can daisy-chain six Honor smartphones that support the feature to play music in-sync, creating a louder sound experience.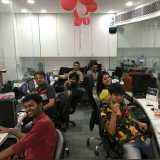 Digit NewsDesk
  news@digit.in
The guy who answered the question 'What are you doing?' with 'Nothing'.
​
').insertAfter('.inside-container p:eq(1)'); */
// $( " ).insertAfter('.inside-container p:eq(0)');
//});#}
//method to trunkate the text
function shorten(text, maxLength) {
var ret = text;
if (ret.length > maxLength) {
ret = ret.substr(0,maxLength-3) + "…";
}
return ret;
}
$(function(){
//function to put utm on DontMiss links
/*if(isDesktop()){
$('div.dontMiss > a').each(function(){
$(this).prop('href', $(this).prop('href')+'?utm_source=within_article&utm_medium=desktop&utm_campaign=related');
//trunkate dont miss content
var sub = shorten($(this).html(),47);
$(this).html(sub);
});
}else{
$('div.dontMiss > a').each(function(){
$(this).prop('href', $(this).prop('href')+'?utm_source=within_article&utm_medium=mobile&utm_campaign=related');
});
}*/
//disabled method to append dontmiss links to page content by Mayank
/*$('div.dontMiss > a').each(function(index){
//loop over each list item
// if(index%2 > 0){
// index = index – 1;
// }
if($('.inside-container > p:eq('+index+')').length){
if(isDesktop()){
$('.inside-container > p:eq('+((index * 2) + 1)+')').append('
Related: ' + $(this).html() + '' );
}else{
$('.inside-container > p:eq('+((index * 2) + 1)+')').append('
Related: ' + $(this).html() + '' );
}
}
});*/
$('div.dontMissArea').hide();
/* if(isDesktop()) {
$('div.dontMissArea').hide();
}else{
$('div.dontMissArea').show();
} */
/*
* ga event tracking on page scroll start and end by Mayank
*/
// Debug flag
var debugMode = false;
// Default time delay before checking location
var callBackTime = 100;
// # px before tracking a reader
var readerLocation = 150;
// Set some flags for tracking & execution
var timer = 0;
var scroller = false;
var endContent = false;
var didComplete = false;
// Set some time variables to calculate reading time
var startTime = new Date();
var beginning = startTime.getTime();
var totalTime = 0;
// Get some information about the current page
var pageTitle = document.title;
// Track the aticle load — disabled
if (!debugMode) {
// ga('send', 'event', 'Reading', 'ArticleLoaded', pageTitle, {'nonInteraction': 1});
// console.log("ga('send', 'event', 'Reading', 'ArticleLoaded', pageTitle, {'nonInteraction': 1}");
} else {
alert('The page has loaded. Woohoo.');
}
// Check the location and track user
function trackLocation() {
bottom = $(window).height() + $(window).scrollTop();
height = $(document).height();
// If user starts to scroll send an event
if (bottom > readerLocation && !scroller) {
currentTime = new Date();
scrollStart = currentTime.getTime();
timeToScroll = Math.round((scrollStart – beginning) / 1000);
if (!debugMode) {
ga('send', 'event', 'Reading', 'StartReading', pageTitle, timeToScroll, {'metric1' : timeToScroll});
} else {
alert('started reading ' + timeToScroll);
}
scroller = true;
}
// If user has hit the bottom of the content send an event
if (bottom >= $('.inside-container').scrollTop() + $('.inside-container').innerHeight() && !endContent) {
currentTime = new Date();
contentScrollEnd = currentTime.getTime();
timeToContentEnd = Math.round((contentScrollEnd – scrollStart) / 1000);
if (!debugMode) {
if (timeToContentEnd = height && !didComplete) {
currentTime = new Date();
end = currentTime.getTime();
totalTime = Math.round((end – scrollStart) / 1000);
if (!debugMode) {
ga('send', 'event', 'Reading', 'PageBottom', pageTitle, totalTime, {'metric3' : totalTime});
} else {
alert('bottom of page '+totalTime);
}
didComplete = true;
}
}
// Track the scrolling and track location
$(window).scroll(function() {
if (timer) {
clearTimeout(timer);
}
// Use a buffer so we don't call trackLocation too often.
timer = setTimeout(trackLocation, callBackTime);
});
});
').insertAfter(".inside-container p:eq(2)");
}
});