The all-electric motorbike from the fabled American biking giant is being based on its LiveWire concept, which was initially unveiled in 2014.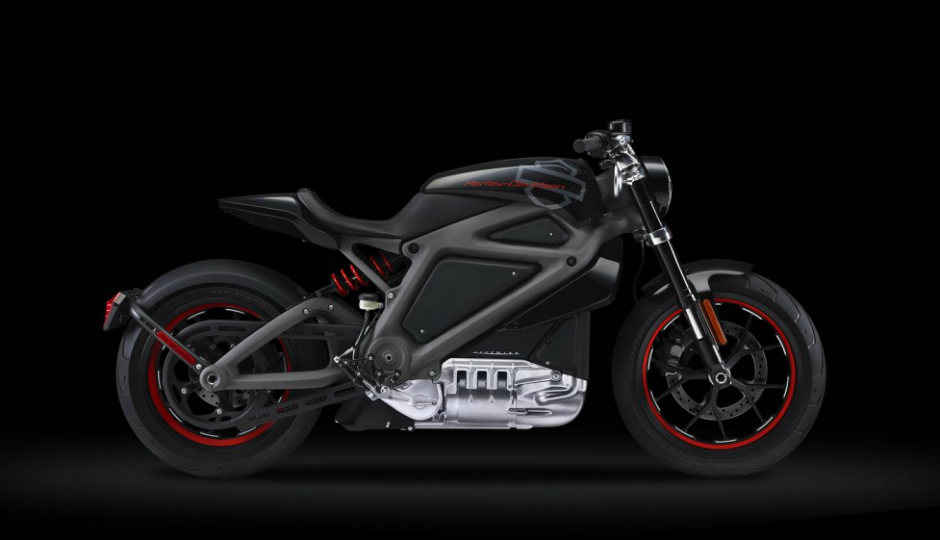 Harley-Davidson is one of the biggest names in the world of motorbikes, and enjoys a certain level of reverence in India and across the world. Many regard the company to be agnostic at a certain level to many industry trends, but that hasn't prevented it from contributing to nascent trends every now and then. For instance, just when full-fledged infotainment systems for motorbikes were being talked about a couple of years ago, Harley-Davidson came out with its Boom! Box infotainment setup for bikes.
The reactions were similar when the company unveiled the Harley-Davidson LiveWire electric bike concept back in 2014. Not considered to be at the forefront of cutting edge technology, it was a bit of a surprise when the company came up with this concept, and despite a few oddities here and there, it looked its part as a Harley Davidson, fair enough. Come 2018, and Harley-Davidson has announced that the LiveWire concept is now entering production, and it will indeed be selling an all-electric motorbike from the later stage of 2018. Exactly how appealing a silent Harley would be cannot be fathomed at the moment, but we expect this to have some sort of glamourising effect in the world of electric-only two-wheelers.
Matt Levatich, President-CEO of Harley-Davidson, said in a statement, "We believe premium Harley-Davidson electric motorcycles will help drive excitement and participation in the sport globally. As we expand our EV capabilities and commitment, we get even more excited about the role electric motorcycles will play in growing our business." Despite not being among the most advanced players in two-wheeler technologies, Harley-Davidson will now have an all-electric motorbike with a connected infotainment system that can pair with Bluetooth audio- and telephony-enabled helmets, and even provide navigation and other functionalities. That is pretty impressive for a company that relies on traditional V-twins and noise-crazy motorists as its fan base.
Figures-wise, the LiveWire was powered by a three-phase AC induction motor, which produced 74bhp and about 72Nm of torque. At around 225kg, it also had a pretty light frame, which would technically compensate a fair bit for the low power output of the electric motor. Even the torque is lower than usual, but since all of it is available right away from the start, the story does not seem all that bad, at least on paper.
It is not clear if the powertrain will remain similar to the concept when it is brought in production, but seeing that Harley-Davidson has had nearly four years to work on it, we do expect the all-electric Harley to match up quite well alongside other electric bikes available today. As of now, though, details remain scarce, but on the good side, the launch itself is not too far away.
​
').insertAfter('.inside-container p:eq(1)'); */
// $( " ).insertAfter('.inside-container p:eq(0)');
//});#}
//method to trunkate the text
function shorten(text, maxLength) {
var ret = text;
if (ret.length > maxLength) {
ret = ret.substr(0,maxLength-3) + "…";
}
return ret;
}
$(function(){
//function to put utm on DontMiss links
/*if(isDesktop()){
$('div.dontMiss > a').each(function(){
$(this).prop('href', $(this).prop('href')+'?utm_source=within_article&utm_medium=desktop&utm_campaign=related');
//trunkate dont miss content
var sub = shorten($(this).html(),47);
$(this).html(sub);
});
}else{
$('div.dontMiss > a').each(function(){
$(this).prop('href', $(this).prop('href')+'?utm_source=within_article&utm_medium=mobile&utm_campaign=related');
});
}*/
//disabled method to append dontmiss links to page content by Mayank
/*$('div.dontMiss > a').each(function(index){
//loop over each list item
// if(index%2 > 0){
// index = index – 1;
// }
if($('.inside-container > p:eq('+index+')').length){
if(isDesktop()){
$('.inside-container > p:eq('+((index * 2) + 1)+')').append('
Related: ' + $(this).html() + '' );
}else{
$('.inside-container > p:eq('+((index * 2) + 1)+')').append('
Related: ' + $(this).html() + '' );
}
}
});*/
$('div.dontMissArea').hide();
/* if(isDesktop()) {
$('div.dontMissArea').hide();
}else{
$('div.dontMissArea').show();
} */
/*
* ga event tracking on page scroll start and end by Mayank
*/
// Debug flag
var debugMode = false;
// Default time delay before checking location
var callBackTime = 100;
// # px before tracking a reader
var readerLocation = 150;
// Set some flags for tracking & execution
var timer = 0;
var scroller = false;
var endContent = false;
var didComplete = false;
// Set some time variables to calculate reading time
var startTime = new Date();
var beginning = startTime.getTime();
var totalTime = 0;
// Get some information about the current page
var pageTitle = document.title;
// Track the aticle load — disabled
if (!debugMode) {
// ga('send', 'event', 'Reading', 'ArticleLoaded', pageTitle, {'nonInteraction': 1});
// console.log("ga('send', 'event', 'Reading', 'ArticleLoaded', pageTitle, {'nonInteraction': 1}");
} else {
alert('The page has loaded. Woohoo.');
}
// Check the location and track user
function trackLocation() {
bottom = $(window).height() + $(window).scrollTop();
height = $(document).height();
// If user starts to scroll send an event
if (bottom > readerLocation && !scroller) {
currentTime = new Date();
scrollStart = currentTime.getTime();
timeToScroll = Math.round((scrollStart – beginning) / 1000);
if (!debugMode) {
ga('send', 'event', 'Reading', 'StartReading', pageTitle, timeToScroll, {'metric1' : timeToScroll});
} else {
alert('started reading ' + timeToScroll);
}
scroller = true;
}
// If user has hit the bottom of the content send an event
if (bottom >= $('.inside-container').scrollTop() + $('.inside-container').innerHeight() && !endContent) {
currentTime = new Date();
contentScrollEnd = currentTime.getTime();
timeToContentEnd = Math.round((contentScrollEnd – scrollStart) / 1000);
if (!debugMode) {
if (timeToContentEnd = height && !didComplete) {
currentTime = new Date();
end = currentTime.getTime();
totalTime = Math.round((end – scrollStart) / 1000);
if (!debugMode) {
ga('send', 'event', 'Reading', 'PageBottom', pageTitle, totalTime, {'metric3' : totalTime});
} else {
alert('bottom of page '+totalTime);
}
didComplete = true;
}
}
// Track the scrolling and track location
$(window).scroll(function() {
if (timer) {
clearTimeout(timer);
}
// Use a buffer so we don't call trackLocation too often.
timer = setTimeout(trackLocation, callBackTime);
});
});
').insertAfter(".inside-container p:eq(2)");
}
});