Over 80 percent of the buyers of the Google Pixel 3 come from Android.
Over a third of customers who bought the Google Pixel 3 and OnePlus 6T during the final quarter of 2018 were previously owners of a Samsung Galaxy smartphone. How's that for a theory? Well, that's exactly what a recent report from Counterpoint Research's US Smartphone Churn Tracker says. It goes on to say that despite the initial success in sales, the Google Pixel 3, which is one of the iPhone's most immediate competitors, failed to convert a larger share of iPhone users to Android. In fact, only less than one in five customers of either phone was an iPhone user.


Counterpoint Research's report adds that in the fourth quarter of 2018, the Google Pixel accounted for 7.3 percent of Verizon's total sales. On the other hand, the OnePlus 6T accounted for 2.4 percent of T-Mobile's total sales. Despite starting strong in the same quarter of last year, OnePlus 6T sales reportedly weakened in the first quarter of 2019. The Google Pixel, on the other hand, failed to attract iPhone users because over 80 percent of the phone's buyers reportedly came from Android.


"The newest Google Pixel lineup was certainly successful in terms of disrupting the premium market space at Verizon. Google invested a lot of marketing money during Q4 2018 resulting in strong sales of the Google Pixel 3 lineup. Over half of all new Pixel 3 owners came from Samsung. A total of 31% of Pixel 3 sales came from previous Samsung Galaxy S7 owners," said Jeff Fieldhack, Research Director at Counterpoint Research.


"When the 6T was announced for T-Mobile, at a sub-US$600 price point, consumers flocked to the device. Many users upgraded their older Samsung J2 Prime and Galaxy S7 phones. In addition, over 70% of previous Apple users had an iPhone 7, iPhone 6, or older. Consumers who have older devices are looking for alternatives to the flagships that cost more than US$800 currently offered," commented Research Analyst Maurice Klaehne. The researcher later added that the OnePlus 6T might not see strong sales in the future. "There is little marketing money spent by the OEM and older Apple and Samsung flagships have been discounted to make a similar value offer which most consumers will gravitate towards," he said.


Related Read: OnePlus 6T hits lowest price ever during Amazon Fab Phone Fest, other attractive deals on Apple iPhone XR, Vivo V15 Pro and more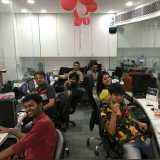 Digit NewsDesk
  news@digit.in
The guy who answered the question 'What are you doing?' with 'Nothing'.
Other Popular Deals
Xiaomi Y2 (Gold, 3GB RAM, 32GB…

Rs. 8999

Buy Now

Mi Redmi Y2 (Dark Grey, 4GB…

Rs. 10999

Buy Now

Mi A2 (Black, 6GB RAM, 128GB…

Rs. 15999

Buy Now
​
').insertAfter('.inside-container p:eq(1)'); */
// $( " ).insertAfter('.inside-container p:eq(0)');
//});#}
//method to trunkate the text
function shorten(text, maxLength) {
var ret = text;
if (ret.length > maxLength) {
ret = ret.substr(0,maxLength-3) + "…";
}
return ret;
}
$(function(){
//function to put utm on DontMiss links
/*if(isDesktop()){
$('div.dontMiss > a').each(function(){
$(this).prop('href', $(this).prop('href')+'?utm_source=within_article&utm_medium=desktop&utm_campaign=related');
//trunkate dont miss content
var sub = shorten($(this).html(),47);
$(this).html(sub);
});
}else{
$('div.dontMiss > a').each(function(){
$(this).prop('href', $(this).prop('href')+'?utm_source=within_article&utm_medium=mobile&utm_campaign=related');
});
}*/
//disabled method to append dontmiss links to page content by Mayank
/*$('div.dontMiss > a').each(function(index){
//loop over each list item
// if(index%2 > 0){
// index = index – 1;
// }
if($('.inside-container > p:eq('+index+')').length){
if(isDesktop()){
$('.inside-container > p:eq('+((index * 2) + 1)+')').append('
Related: ' + $(this).html() + '' );
}else{
$('.inside-container > p:eq('+((index * 2) + 1)+')').append('
Related: ' + $(this).html() + '' );
}
}
});*/
$('div.dontMissArea').hide();
/* if(isDesktop()) {
$('div.dontMissArea').hide();
}else{
$('div.dontMissArea').show();
} */
/*
* ga event tracking on page scroll start and end by Mayank
*/
// Debug flag
var debugMode = false;
// Default time delay before checking location
var callBackTime = 100;
// # px before tracking a reader
var readerLocation = 150;
// Set some flags for tracking & execution
var timer = 0;
var scroller = false;
var endContent = false;
var didComplete = false;
// Set some time variables to calculate reading time
var startTime = new Date();
var beginning = startTime.getTime();
var totalTime = 0;
// Get some information about the current page
var pageTitle = document.title;
// Track the aticle load — disabled
if (!debugMode) {
// ga('send', 'event', 'Reading', 'ArticleLoaded', pageTitle, {'nonInteraction': 1});
// console.log("ga('send', 'event', 'Reading', 'ArticleLoaded', pageTitle, {'nonInteraction': 1}");
} else {
alert('The page has loaded. Woohoo.');
}
// Check the location and track user
function trackLocation() {
bottom = $(window).height() + $(window).scrollTop();
height = $(document).height();
// If user starts to scroll send an event
if (bottom > readerLocation && !scroller) {
currentTime = new Date();
scrollStart = currentTime.getTime();
timeToScroll = Math.round((scrollStart – beginning) / 1000);
if (!debugMode) {
ga('send', 'event', 'Reading', 'StartReading', pageTitle, timeToScroll, {'metric1' : timeToScroll});
} else {
alert('started reading ' + timeToScroll);
}
scroller = true;
}
// If user has hit the bottom of the content send an event
if (bottom >= $('.inside-container').scrollTop() + $('.inside-container').innerHeight() && !endContent) {
currentTime = new Date();
contentScrollEnd = currentTime.getTime();
timeToContentEnd = Math.round((contentScrollEnd – scrollStart) / 1000);
if (!debugMode) {
if (timeToContentEnd = height && !didComplete) {
currentTime = new Date();
end = currentTime.getTime();
totalTime = Math.round((end – scrollStart) / 1000);
if (!debugMode) {
ga('send', 'event', 'Reading', 'PageBottom', pageTitle, totalTime, {'metric3' : totalTime});
} else {
alert('bottom of page '+totalTime);
}
didComplete = true;
}
}
// Track the scrolling and track location
$(window).scroll(function() {
if (timer) {
clearTimeout(timer);
}
// Use a buffer so we don't call trackLocation too often.
timer = setTimeout(trackLocation, callBackTime);
});
});
').insertAfter(".inside-container p:eq(2)");
}
});