The app's selfie feature compares the user's photo against the many pieces of art shared by museums and finds the best matches.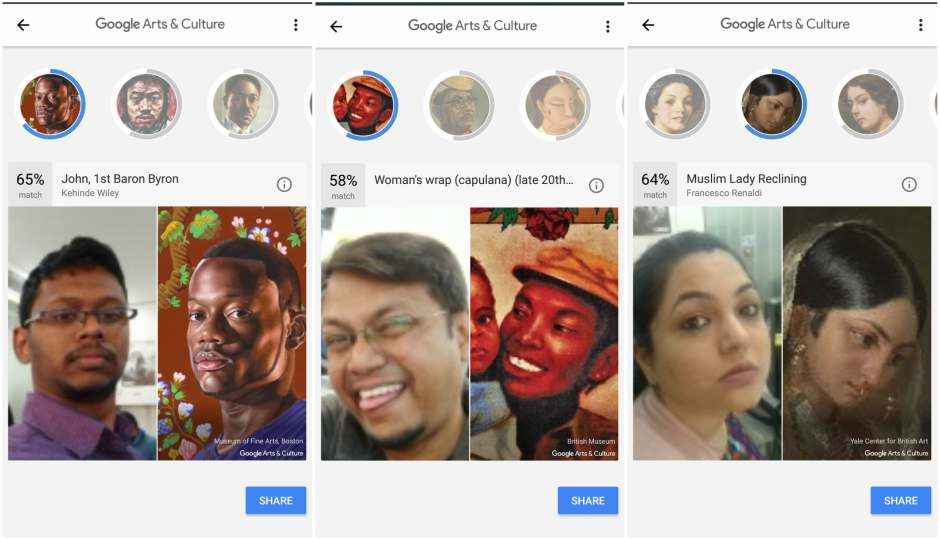 A few weeks back, Google unveiled its new Arts and Culture app and added a feature that matches selfies with museum artwork. However, back then the feature was limited to the US market and users in India had to use VPNs in order to access the feature. Now though, the company has official launched the feature in India.
The feature works in the same manner as before. It uses computer vision technology to examine a users face, and then compares it against the many pieces of art shared by museums and similar institutions. The user is then showed which of the artworks best matches their selfie along with the percentage of the match. Tapping the artwork reveals more details about the piece.
Google also assures users that the company will not use the data from the phone for any other purpose and will only store the photo for the time it takes to search for matches. Further, it also lets the user know that the feature is still in an experimental stage.
The project as formerly known as the Google Art Project and was launched back in 2011. The initiative aims to make art more accessible in this day and age. The project was launched in collaboration wit 17 international museums located in multiple parts of the world.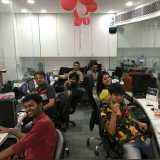 Digit NewsDesk
  news@digit.in
The guy who answered the question 'What are you doing?' with 'Nothing'.
​
').insertAfter('.inside-container p:eq(1)'); */
// $( " ).insertAfter('.inside-container p:eq(0)');
//});#}
//method to trunkate the text
function shorten(text, maxLength) {
var ret = text;
if (ret.length > maxLength) {
ret = ret.substr(0,maxLength-3) + "…";
}
return ret;
}
$(function(){
//function to put utm on DontMiss links
/*if(isDesktop()){
$('div.dontMiss > a').each(function(){
$(this).prop('href', $(this).prop('href')+'?utm_source=within_article&utm_medium=desktop&utm_campaign=related');
//trunkate dont miss content
var sub = shorten($(this).html(),47);
$(this).html(sub);
});
}else{
$('div.dontMiss > a').each(function(){
$(this).prop('href', $(this).prop('href')+'?utm_source=within_article&utm_medium=mobile&utm_campaign=related');
});
}*/
//disabled method to append dontmiss links to page content by Mayank
/*$('div.dontMiss > a').each(function(index){
//loop over each list item
// if(index%2 > 0){
// index = index – 1;
// }
if($('.inside-container > p:eq('+index+')').length){
if(isDesktop()){
$('.inside-container > p:eq('+((index * 2) + 1)+')').append('
Related: ' + $(this).html() + '' );
}else{
$('.inside-container > p:eq('+((index * 2) + 1)+')').append('
Related: ' + $(this).html() + '' );
}
}
});*/
$('div.dontMissArea').hide();
/* if(isDesktop()) {
$('div.dontMissArea').hide();
}else{
$('div.dontMissArea').show();
} */
/*
* ga event tracking on page scroll start and end by Mayank
*/
// Debug flag
var debugMode = false;
// Default time delay before checking location
var callBackTime = 100;
// # px before tracking a reader
var readerLocation = 150;
// Set some flags for tracking & execution
var timer = 0;
var scroller = false;
var endContent = false;
var didComplete = false;
// Set some time variables to calculate reading time
var startTime = new Date();
var beginning = startTime.getTime();
var totalTime = 0;
// Get some information about the current page
var pageTitle = document.title;
// Track the aticle load — disabled
if (!debugMode) {
// ga('send', 'event', 'Reading', 'ArticleLoaded', pageTitle, {'nonInteraction': 1});
// console.log("ga('send', 'event', 'Reading', 'ArticleLoaded', pageTitle, {'nonInteraction': 1}");
} else {
alert('The page has loaded. Woohoo.');
}
// Check the location and track user
function trackLocation() {
bottom = $(window).height() + $(window).scrollTop();
height = $(document).height();
// If user starts to scroll send an event
if (bottom > readerLocation && !scroller) {
currentTime = new Date();
scrollStart = currentTime.getTime();
timeToScroll = Math.round((scrollStart – beginning) / 1000);
if (!debugMode) {
ga('send', 'event', 'Reading', 'StartReading', pageTitle, timeToScroll, {'metric1' : timeToScroll});
} else {
alert('started reading ' + timeToScroll);
}
scroller = true;
}
// If user has hit the bottom of the content send an event
if (bottom >= $('.inside-container').scrollTop() + $('.inside-container').innerHeight() && !endContent) {
currentTime = new Date();
contentScrollEnd = currentTime.getTime();
timeToContentEnd = Math.round((contentScrollEnd – scrollStart) / 1000);
if (!debugMode) {
if (timeToContentEnd = height && !didComplete) {
currentTime = new Date();
end = currentTime.getTime();
totalTime = Math.round((end – scrollStart) / 1000);
if (!debugMode) {
ga('send', 'event', 'Reading', 'PageBottom', pageTitle, totalTime, {'metric3' : totalTime});
} else {
alert('bottom of page '+totalTime);
}
didComplete = true;
}
}
// Track the scrolling and track location
$(window).scroll(function() {
if (timer) {
clearTimeout(timer);
}
// Use a buffer so we don't call trackLocation too often.
timer = setTimeout(trackLocation, callBackTime);
});
});
').insertAfter(".inside-container p:eq(2)");
}
});