Asus could focus the upcoming ROG phone launch in China and team up with Tencent to promote it.
Asus announced its ROG gaming smartphone in India late last year at a price of Rs 69,999. The company was determined to impress gamers with the Snapdragon 845 chipset-powered handset that featured a slew of features supporting gaming, along with accessories. A new report by Digitimes suggests that the company is planning to launch a successor to the phone by the third quarter this year. While there are no details about what new specifications and features the handset could bring to the table, the report suggests that the company is most likely to partner with Tencent to promote it in China. 


"If the cooperation with Tencent is realized, it could provide a lifeline to Asustek's embattled smartphone business, said the sources, although profits generated from gaming smartphone models are still not significant," the report states. Asus announced a change in its strategy back in December 2018 to shift focus from entry-level and mid-range smartphones to high-end smartphones to cut back on losses. The news of the company's partnership with Tencent isn't that surprising since the PC peripherals and gaming smartphone maker Razer also announced that it was working with Tencent on a number of initiatives related to smartphone-based games that will cover software, hardware and services. 


As for the company's first gaming smartphone, the handset features a 6-inch AMOLED HDR display with a 90hz refresh rate. It runs on an overclocked 2.96Ghz "speed-binned" Qualcomm Snapdragon 845 chipset with a Qualcomm Adreno 630 GPU and is equipped with 8GB RAM, and 512GB of internal storage. In terms of optics, the ROG Gaming phone comes equipped with a dual 12MP + 8MP rear camera where the main sensor is paired with an f/1.8 aperture lens. The camera comes with 4-axis Optical Image Stabilisation and with dual pixel PDAF for faster autofocus. On the front is a single 8 MP camera with f/2.0 aperture. The ROG gaming smartphone is powered by a 4,000mAh battery that uses Asus HyperCharge direct-charge technology.


Related Reads:
ASUS ROG Smartphone: India's first gaming smartphone is every mobile gamer's wet dream come true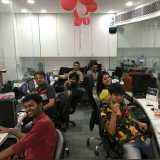 Digit NewsDesk
  news@digit.in
The guy who answered the question 'What are you doing?' with 'Nothing'.
Other Popular Deals
Mi Redmi 6A (Rose Gold, 2GB…

Rs. 6499

Buy Now

Redmi Note 5 Pro (Gold, 4GB…

Rs. 10888

Buy Now

Mi Redmi Y2 (Dark Grey, 4GB…

Rs. 10999

Buy Now
​
').insertAfter('.inside-container p:eq(1)'); */
// $( " ).insertAfter('.inside-container p:eq(0)');
//});#}
//method to trunkate the text
function shorten(text, maxLength) {
var ret = text;
if (ret.length > maxLength) {
ret = ret.substr(0,maxLength-3) + "…";
}
return ret;
}
$(function(){
//function to put utm on DontMiss links
/*if(isDesktop()){
$('div.dontMiss > a').each(function(){
$(this).prop('href', $(this).prop('href')+'?utm_source=within_article&utm_medium=desktop&utm_campaign=related');
//trunkate dont miss content
var sub = shorten($(this).html(),47);
$(this).html(sub);
});
}else{
$('div.dontMiss > a').each(function(){
$(this).prop('href', $(this).prop('href')+'?utm_source=within_article&utm_medium=mobile&utm_campaign=related');
});
}*/
//disabled method to append dontmiss links to page content by Mayank
/*$('div.dontMiss > a').each(function(index){
//loop over each list item
// if(index%2 > 0){
// index = index – 1;
// }
if($('.inside-container > p:eq('+index+')').length){
if(isDesktop()){
$('.inside-container > p:eq('+((index * 2) + 1)+')').append('
Related: ' + $(this).html() + '' );
}else{
$('.inside-container > p:eq('+((index * 2) + 1)+')').append('
Related: ' + $(this).html() + '' );
}
}
});*/
$('div.dontMissArea').hide();
/* if(isDesktop()) {
$('div.dontMissArea').hide();
}else{
$('div.dontMissArea').show();
} */
/*
* ga event tracking on page scroll start and end by Mayank
*/
// Debug flag
var debugMode = false;
// Default time delay before checking location
var callBackTime = 100;
// # px before tracking a reader
var readerLocation = 150;
// Set some flags for tracking & execution
var timer = 0;
var scroller = false;
var endContent = false;
var didComplete = false;
// Set some time variables to calculate reading time
var startTime = new Date();
var beginning = startTime.getTime();
var totalTime = 0;
// Get some information about the current page
var pageTitle = document.title;
// Track the aticle load — disabled
if (!debugMode) {
// ga('send', 'event', 'Reading', 'ArticleLoaded', pageTitle, {'nonInteraction': 1});
// console.log("ga('send', 'event', 'Reading', 'ArticleLoaded', pageTitle, {'nonInteraction': 1}");
} else {
alert('The page has loaded. Woohoo.');
}
// Check the location and track user
function trackLocation() {
bottom = $(window).height() + $(window).scrollTop();
height = $(document).height();
// If user starts to scroll send an event
if (bottom > readerLocation && !scroller) {
currentTime = new Date();
scrollStart = currentTime.getTime();
timeToScroll = Math.round((scrollStart – beginning) / 1000);
if (!debugMode) {
ga('send', 'event', 'Reading', 'StartReading', pageTitle, timeToScroll, {'metric1' : timeToScroll});
} else {
alert('started reading ' + timeToScroll);
}
scroller = true;
}
// If user has hit the bottom of the content send an event
if (bottom >= $('.inside-container').scrollTop() + $('.inside-container').innerHeight() && !endContent) {
currentTime = new Date();
contentScrollEnd = currentTime.getTime();
timeToContentEnd = Math.round((contentScrollEnd – scrollStart) / 1000);
if (!debugMode) {
if (timeToContentEnd = height && !didComplete) {
currentTime = new Date();
end = currentTime.getTime();
totalTime = Math.round((end – scrollStart) / 1000);
if (!debugMode) {
ga('send', 'event', 'Reading', 'PageBottom', pageTitle, totalTime, {'metric3' : totalTime});
} else {
alert('bottom of page '+totalTime);
}
didComplete = true;
}
}
// Track the scrolling and track location
$(window).scroll(function() {
if (timer) {
clearTimeout(timer);
}
// Use a buffer so we don't call trackLocation too often.
timer = setTimeout(trackLocation, callBackTime);
});
});
').insertAfter(".inside-container p:eq(2)");
}
});