AMD's Ryzen Threadripper 2990x appeared briefly on a Canadian retailer's website where details about the price and the core/thread count was revealed
AMD has been once again on the rise after Intel dominated the consumer CPU space for well over a decade. The company's Ryzen line of processors has been giving tough competition to Intel's counterparts with comparable performance, at a much lower price tag. The second generation of Threadripper is expected to debut mid-august, but a Canadian retailer has already accidentally leaked the price of the upcoming Threadripper 2990X flagship processor, pegged at roughly $1500.


The crown jewel in AMD's lineup is the Threadripper series, featuring three SKUs with core counts as high as 16 Cores and 32 threads. Threadripper 1950X is the current flagship CPU with 16 cores and 32 threads and a base clock speed of 3.4GHz (4.0 GHz boost) and a default TDP of 180 Watts. According to the listing found by Wccftech, the Threadripper 2990X will feature 32 cores and 64 threads with a base clock speed of 3.4GHz and a boost clock of 4.0GHz. The Threadripper 2990x will also have an 80MB L3 cache and a 250 Watt TDP, so if you're considering an upgrade, you might also want to factor in the potential need for a new power supply as well. Thankfully, the second generation Threadripper CPUs will continue to use the current TR4 socket, meaning you won't have to change your motherboard. AMD has been incredibly considerate of their customers, ensuring that newer CPUs don't enforce the need to also change the motherboard for as long as possible.


The listing of the second-generation flagship Threadripper CPU on Canada Computers does point to a rather high retail price, especially seeing how the current generation of Threadripper CPUs are all under $800. If the listing price is to be believed, the flagship CPU will be a little over 2x the price of the current Threadripper 1950x. You do get double the cores and threads without a drop in base or boost clocks, so a bump in price makes sense, but AMD's USP with the new line of processors has been to offer great performance at low cost. Currently, the Intel i9-7980XE (Extreme Edition) costs roughly $1800, just a few hundred dollars more than the second generation Threadripper, cutting into its value proposition. For reference, the AMD Ryzen Threadripper 1950x currently retails for roughly Rs 80,555 in India and if the second generation Threadripper does retail at twice the current price, it could cost as much as a down payment on a small car. Hopefully, the price listed is only an inflated pre-order price, but we will only know for sure once AMD officially announces the new chips sometime mid-August.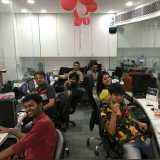 Digit NewsDesk
  news@digit.in
The guy who answered the question 'What are you doing?' with 'Nothing'.
​
').insertAfter('.inside-container p:eq(1)'); */
// $( " ).insertAfter('.inside-container p:eq(0)');
//});#}
//method to trunkate the text
function shorten(text, maxLength) {
var ret = text;
if (ret.length > maxLength) {
ret = ret.substr(0,maxLength-3) + "…";
}
return ret;
}
$(function(){
//function to put utm on DontMiss links
/*if(isDesktop()){
$('div.dontMiss > a').each(function(){
$(this).prop('href', $(this).prop('href')+'?utm_source=within_article&utm_medium=desktop&utm_campaign=related');
//trunkate dont miss content
var sub = shorten($(this).html(),47);
$(this).html(sub);
});
}else{
$('div.dontMiss > a').each(function(){
$(this).prop('href', $(this).prop('href')+'?utm_source=within_article&utm_medium=mobile&utm_campaign=related');
});
}*/
//disabled method to append dontmiss links to page content by Mayank
/*$('div.dontMiss > a').each(function(index){
//loop over each list item
// if(index%2 > 0){
// index = index – 1;
// }
if($('.inside-container > p:eq('+index+')').length){
if(isDesktop()){
$('.inside-container > p:eq('+((index * 2) + 1)+')').append('
Related: ' + $(this).html() + '' );
}else{
$('.inside-container > p:eq('+((index * 2) + 1)+')').append('
Related: ' + $(this).html() + '' );
}
}
});*/
$('div.dontMissArea').hide();
/* if(isDesktop()) {
$('div.dontMissArea').hide();
}else{
$('div.dontMissArea').show();
} */
/*
* ga event tracking on page scroll start and end by Mayank
*/
// Debug flag
var debugMode = false;
// Default time delay before checking location
var callBackTime = 100;
// # px before tracking a reader
var readerLocation = 150;
// Set some flags for tracking & execution
var timer = 0;
var scroller = false;
var endContent = false;
var didComplete = false;
// Set some time variables to calculate reading time
var startTime = new Date();
var beginning = startTime.getTime();
var totalTime = 0;
// Get some information about the current page
var pageTitle = document.title;
// Track the aticle load — disabled
if (!debugMode) {
// ga('send', 'event', 'Reading', 'ArticleLoaded', pageTitle, {'nonInteraction': 1});
// console.log("ga('send', 'event', 'Reading', 'ArticleLoaded', pageTitle, {'nonInteraction': 1}");
} else {
alert('The page has loaded. Woohoo.');
}
// Check the location and track user
function trackLocation() {
bottom = $(window).height() + $(window).scrollTop();
height = $(document).height();
// If user starts to scroll send an event
if (bottom > readerLocation && !scroller) {
currentTime = new Date();
scrollStart = currentTime.getTime();
timeToScroll = Math.round((scrollStart – beginning) / 1000);
if (!debugMode) {
ga('send', 'event', 'Reading', 'StartReading', pageTitle, timeToScroll, {'metric1' : timeToScroll});
} else {
alert('started reading ' + timeToScroll);
}
scroller = true;
}
// If user has hit the bottom of the content send an event
if (bottom >= $('.inside-container').scrollTop() + $('.inside-container').innerHeight() && !endContent) {
currentTime = new Date();
contentScrollEnd = currentTime.getTime();
timeToContentEnd = Math.round((contentScrollEnd – scrollStart) / 1000);
if (!debugMode) {
if (timeToContentEnd = height && !didComplete) {
currentTime = new Date();
end = currentTime.getTime();
totalTime = Math.round((end – scrollStart) / 1000);
if (!debugMode) {
ga('send', 'event', 'Reading', 'PageBottom', pageTitle, totalTime, {'metric3' : totalTime});
} else {
alert('bottom of page '+totalTime);
}
didComplete = true;
}
}
// Track the scrolling and track location
$(window).scroll(function() {
if (timer) {
clearTimeout(timer);
}
// Use a buffer so we don't call trackLocation too often.
timer = setTimeout(trackLocation, callBackTime);
});
});
').insertAfter(".inside-container p:eq(2)");
}
});